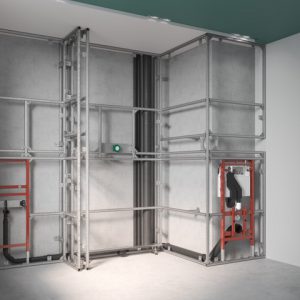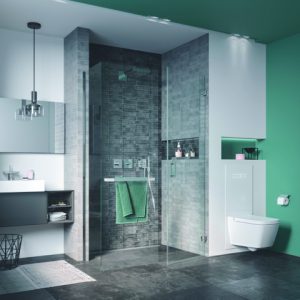 TECE provides SanMOD® with the invisible installation technology!
Optimized for residential construction, Emsdetten-based sanitary construction specialist TECE offers Industrially pre-fabricated registers and wall modules. TECEsystem register walls are produced in their own premises according to the projects custom requirements and delivered to the construction site "just in time".

The industrial pre-construction of sanitary walls shortens the supply chain significantly as it combines the disciplines plumbing, heating, ventilation and drywall construction and hence enables fast and efficient construction while saving costs of individual contruction on site. This guarantees a high quality standard and leads to high planning security due to fixed prices. The walls are made of solid supporting structures and contain the entire sanitary technology as well as all pipes for potable water and waste water, heating, ventilation and – if necessary – even power supply.
All components are matched perfectly and quality tested. TECEsystem is also meeting requirements of fire protection, noise and heat insulation. With the TECE universal cistern, the register walls already include the washstand and toilet modules. At the construction site the technician fixes the system to the building walls, connects the rising pipes of the different levels and installs the desired wall surface, e.g. glass or composite board.
Meets the standards:

Fire resistance class F30, F90 or F120 in accordance with DIN 4102-2:1977-09; drinking water installation in accordance with DIN 1988, DIN EN 806, DIN EN 1717/A1 and VDI 6023; sound protection regulations in accordance with DIN 4109 and VDI 4100